Last Sunday, 2 May, the Worship for All service at Holy Trinity in Malvern was conducted outside, thinking about Gods creation, with a socially distanced congregation of 67 and another 28 watching on YouTube or joining on the telephone.
Churchwarden, Richard Garth said:
"What a fantastic day it was with perfect blue skies and sunshine albeit slightly chilly on the side-lines but this was soon swept aside when the singing started which being outside was aloud (even allowed!)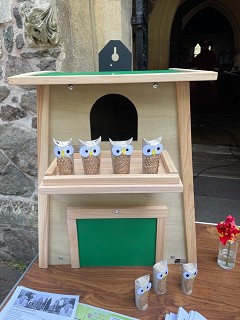 "The Revd Becky Elliott took the opportunity to launch ECO church for Holy Trinity and a number of the congregation will start a plan to obtain ECO church status. To start off the journey Becky had obtained a number of RSPB Bird boxes via The Welcome to our future project and these were placed around the churchyard and blessed during the service .
"It will be fantastic to see which birds decide to make Holy Trinity their new home."