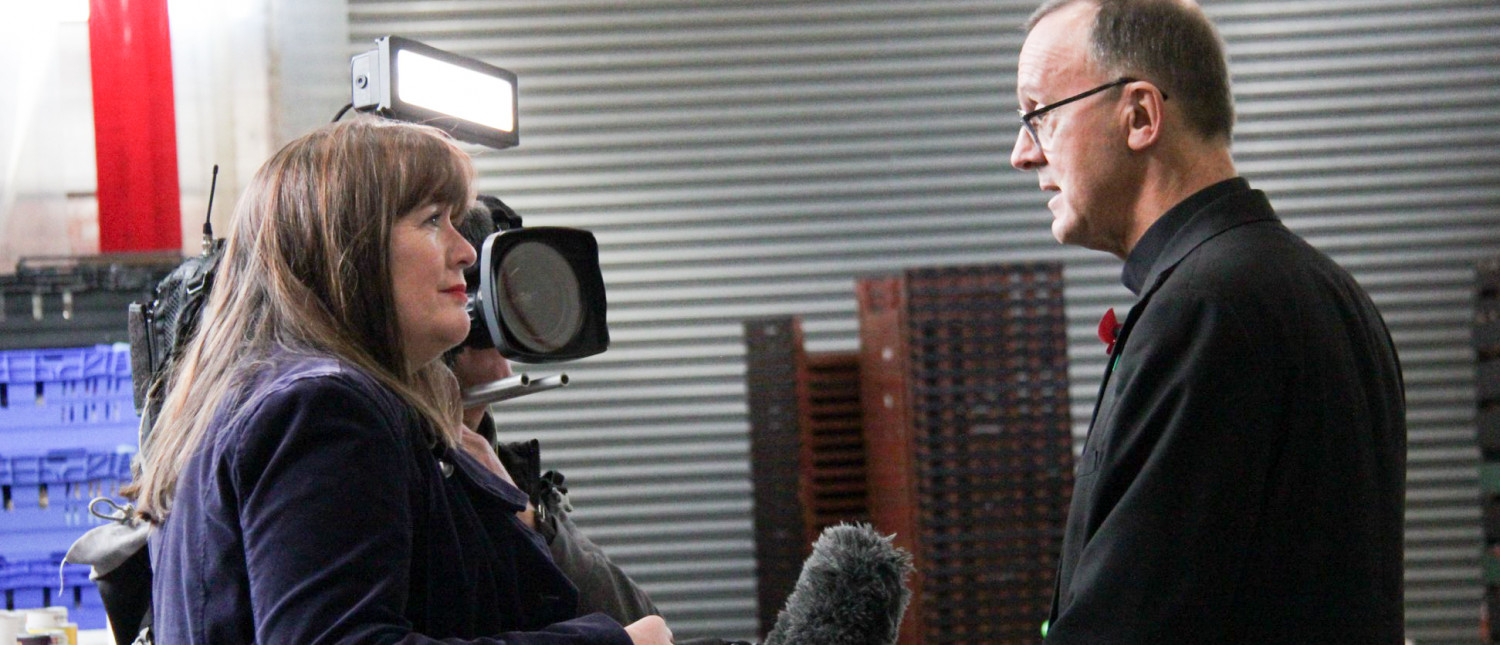 The Communications team is here to support parishes in communicating with each other and their community as well as looking after diocesan communications channels such as the prayer diary, mailing, website, social media and the sermon podcasts.
Below is lots of information on different elements of communications. Please do ask us if you need any specific advice - we are always happy to help with speaking to the media, writing press releases, developing websites and social media pages or putting together a general communications strategy.
We'd also love to hear from you if you have a good news story to share with us! Contact the team.
In this digital age where communities are forming online, we need to be part of the conversation and we would urge churches to look at ways to use social media platforms like Facebook, Twitter and Instagram.
Social media offers a great number of opportunities for the church, but there are also risks involved.
Download the Diocesan Social Media Policy and please do adapt this document for use in your own context.
Get in touch If you have any questions or issues with using social media.
---
Crisis Communications
There may be times when your parish is in the news for more difficult reasons or the church leadership is called upon to offer comments on high-profile local or national issues.
In these situations, Communications Officer, Sam Setchell, can offer support and advice. She can be contacted at any time on ssetchell@cofe-worcester.org.uk or 07852 302516.
If your church is holding a high-profile or celebrity wedding or funeral and you are expecting press, photographers and/or TV crews, you can contact Sam for help and support.
Parish Magazines
Parish magazines are a great way for churches to reach out to their local communities. Many churches deliver them through doors across their parishes as a way of promoting events, spreading the Good News and showing that the Church is alive and thriving!
There are some useful tips to follow when producing a parish magazine:
Keep it simple and avoid all jargon (check out any 'churchy' words with someone who isn't a regular churchgoer).
Make it as professional as possible (it could be the first impression people have of your church).
Think about images as well as the words.
Talk to other nearby parishes who have magazines to find out what works well for them.
A monthly email is sent out with articles and ideas for your parish magazine. If you'd like to sign up for this or would like any more information about putting together a parish magazine, contact Sam Setchell.
Or have a look for the latest articles we're recommending by following this link.
Working with your local media
There's a real opportunity for churches to build great relationships with their local newspapers and radio stations so don't forget to tell them what you're doing.
Local papers love good news community stories with a human interest angle and those kind of stories are happening in churches across the Diocese every week!
If you've got something happening, give your local paper a call in advance, or take photos of your event and send it to them with a report afterwards.
Below are links to the contact details of the main newspaper outlets throughout the Diocese as well as some tips on writing press releases. If you'd like any more help, please do contact Sam Setchell in Communications.
Tips for press release writing
Make sure it's really new and relevant
Tailor the release for local press
Ensure that when, what and why is high in the release
Link to current issues
Make sure the key point is up front
No point in setting the scene – do that at the end.
Most important point in 1st line, not 1st paragraph
Essential to say what this story actually means for the reader: think about how you would explain it to someone if you were talking to them
Avoid jargon
Will it grab attention?
The title/ headline is important
The paper needs to see 'at a glance' what the story is
Always remember that you will be competing with others
Keep it as concise as possible
Think about the photo opportunity
Use examples and realistic quotes
Short, colloquial quotes are more likely to be printed.
Use examples, so the reader can identify with what you're telling them
Consistency / Corporate style – enables journalists to recognise your press release
Build up contacts with the press – talk to them about what works well/ tell them what's happening
Provide a clear point of contact in the press release.
Local press contacts
Diocesan logos
Parishes and schools are welcome to download and use these logos but only on the basis that it is clear on the publication that they themselves own the publicaiton and not the Diocese of Worcester.
Church of England logos can be downloaded from their website.
Diocesan Branding Guidance
---
Useful Links
Social media in the Diocese of Worcester