We are the Church of England in Worcestershire and Dudley.
Welcome to the Diocese of Worcester.

Our diocesan vision is to grow as Kingdom People, sharing the good news of Jesus' love in Worcestershire and Dudley.
As the body of Christ, God's Kingdom People, we join together to worship God, make disciples, share hope, and transform communities as we live out values of love, compassion, justice and freedom.
The Diocese of Worcester is committed to safeguarding children, young people and vulnerable adults to worship and grow in Christ safely.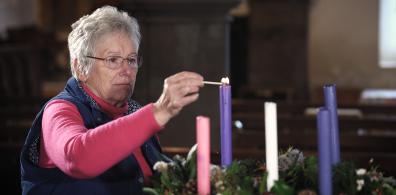 1st Sunday of Advent – New Worshipping Communities
We have produced a series of videos for each week in Advent and Christmas Day featuring the lighting of candles on an Advent wreath while praying for growth in our diocese....
Elmley Castle w Bricklehampton & the Combertons
Give thanks for the energy and commitment of those who are the face of Christ in their villages. Please pray that we develop an invitational culture and nurturing worship. For our ALMs. Clergy: Katryn Leclézio, Allison Davies, Roger Spiller
Barbados (West Indies): Bishop Michael Maxwell
Tuesday 5th December
2:00 pm
-
Chat & Cuppa Club
Wednesday 6th December
10:00 am
-
DBE: Wellbeing and Spirituality Compendium
3:00 pm
-
Digital Giving: Understanding connectivity
Saturday 9th December
12:00 pm
-
Walk of wonder
Sunday 10th December
10:30 am
-
Walk of Wonder
Tuesday 12th December
10:00 am
-
Holland House - Angels we have heard on high – Quiet Day
3:00 pm
-
Holland House - Carols in the chapel at 3pm
Signup
Our Diocesan Mailing e-newsletter is published fortnightly. It's packed with resources, information, news and events to support those involved in church in the Diocese of Worcester.
Donate
Please continue to support your local church as your first priority.

However, if in addition to this, you are able to give to the 'Diocese of Worcester Ministry Fund', your donation will be used to help pay for our clergy now and in the coming months.