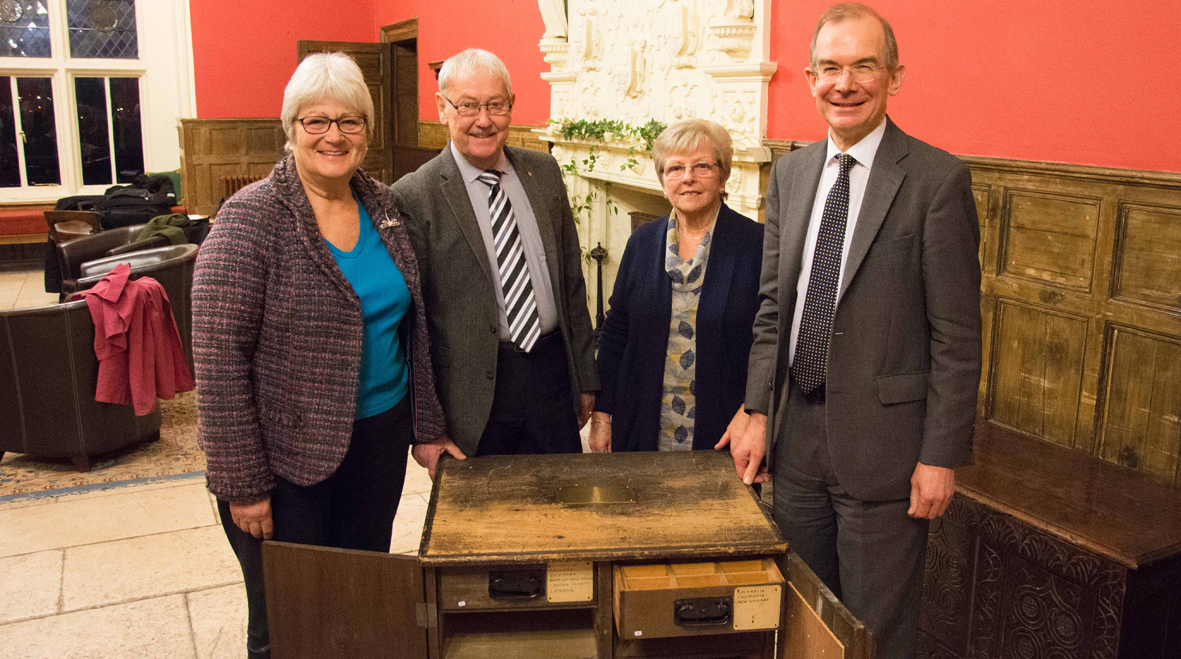 A new project to digitise ahistoric collection of lantern slides from over 100 years ago was launched atthe Old Palace in Worcester on Friday. The majority of the collection of 1800slides were taken by Arthur Henry Whinfield, Worcester resident and organist atClaines Church, during the 1880s as he travelled throughout the UK, Europe,Asia, Africa, Australasia and the Americas.
The set of lantern slides nowbelongs to the Diocese of Worcester Church House Trust, but has been lookedafter by the Worcestershire Archive and Archaeology Service since the 1970s.Photos include images from Whinfields world tours, including internationallyimportant sites and landscapes which no longer exist; cathedrals and churchesfrom the UK and beyond, showing numerous architectural features; and slidesused by Whinfield during church services, including projected hymn lyrics forthe parishioners of St. John Baptist Church in Claines, Worcester.
Justin Hughes, CommunityProjects Officer for the Worcestershire Archive and Archaeology Service, said:This is a unique collection. Its incredibly rare to have so manywell-preserved slides of local, national and international interest. Until now,the slides havent been catalogued so no one has seen it. Weve been fortunateto gain Heritage Lottery funding to help digitise them and we now want to letpeople know about the slides, so they can be accessed and used.
Robert Higham, DiocesanSecretary and a Trustee of the Church House Trust, said: Were delighted to beworking with Justin and his team to bring these slides to a wider audience. Thelaunch event marked the centenary of them being given to the Church House Trustby Arthur Winfields widow, Laura Jane Curtler. We think many of the imageswill be of huge interest to people both inside and outside our churches,including Arthur Winfields use of the technology of his day in Christianworship.
The launch kicks off a seriesof events which will help raise the profile of the collection in the localcommunity. From the end of March, a number of the images will be projectedaround the Hive and on other sites in the city. There are also workshopsplanned at Claines Church and Huntingdon Hall, where the team will re-inact andreinterpret one of Whinfields lectures: Around the World in 80 Slides. Thiswill feature a musical element, reflecting the fact that Whinfield wasproprietor of Nicholson Organ Company in Worcester from 1903-1916 as well asorganist at Claines.
Whinfield did a considerableamount of travel throughout his life, continued Justin. He documented hisexperiences through the pictures and then came back and shared them with localpeople. The slides represent his lifes work, covering a range of topics fromreligion, to architecture and organs as well as the travel pictures. Wed bedelighted to share the slides with anyone who might be interested please getin touch at jhughes@worcestershire.gov.uk. Justin alsosays that not much is known about Whinfield's life and if anyone knows anythingcould they please get in touch?
---
ENDS
The Diocese of Worcester is one of 42 dioceses in the Church of England. It covers an area of 671 square miles and includes parishes in the County of Worcestershire, the Metropolitan Borough of Dudley, and a few parishes in northern Gloucestershire, south east Wolverhampton and Sandwell.
From: Sam Setchell, Press Officer for the Diocese of Worcester and the Bishop of Worcester.