On Sunday afternoon, Bishop Martin visited St Peter's Church in Bengeworth to commission the people for a new chapter as they officially launched the renewal project at the church.
The Revd Andy Smith is the new vicar at St Peter's and has brought a team from our diocesan Resourcing Church, All Saints in Worcester to develop different forms of worship and attract new people.
He said: "This commissioning service is an important step in the journey of our growing church in Evesham. Along with the team from All Saints, there are a number of people who have joined us from the existing congregation at St Peter's as well as Fairfield Church congregation and Sunday's service was a way of uniting us all as we move forward together to share the Good News of Jesus' love with our local community."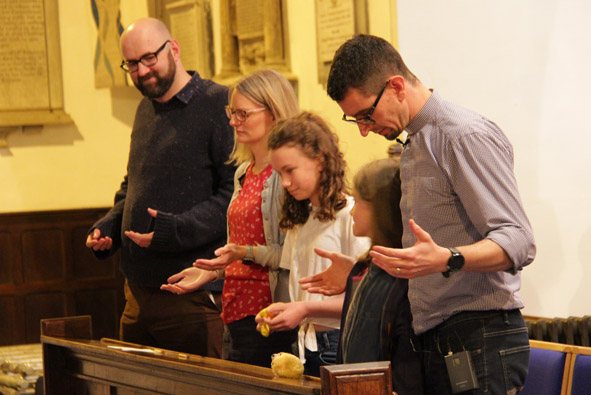 Andy moved to St Peter's in September and the church now holds three different services on a Sunday morning, offering both traditional and contemporary worship. At the new informal gathering which meets at 10.30am each Sunday, the congregation has already grown to almost 60 people, including 17 children.
"I would like to say a massive thank you to the congregation at St Peter's for being open to change. People have been incredibly supportive of the new service we've introduced aimed at families, young adults and young people. The aim is to genuinely honour what has been and continues to be as well as making changes to reach different groups. I've also been humbled by the warmth of reception from other churches in the local area – it's important to us to work with others in our mission to the town."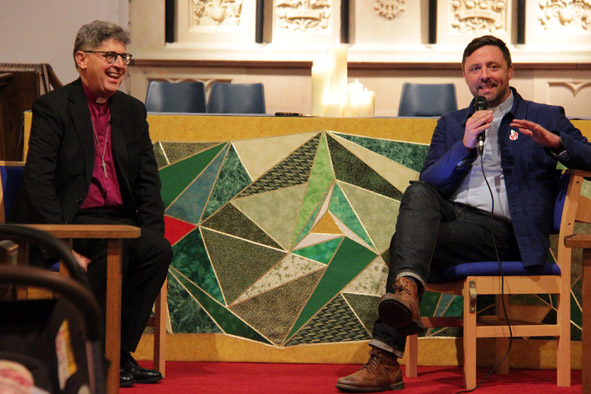 At the service Bishop Martin and Resourcing Church leader at All Saints, Rich Johnson, had a conversation about the vision of the Diocese and where St Peter's fits within that. Andy preached on the manner in which Jesus sends us and balloons were released inside the church. After the service everyone enjoyed cakes and fizz together!
Bishop Martin said: "Thanks to all who have welcomed this renewal project, it takes courage to do that. This project is part of our diocesan vision to grow as Kingdom People – to be people who love God and love their neighbour, bringing hope and transforming communities. This church will get bigger and stronger by serving its community and embracing a love that gives itself away to bring life to others."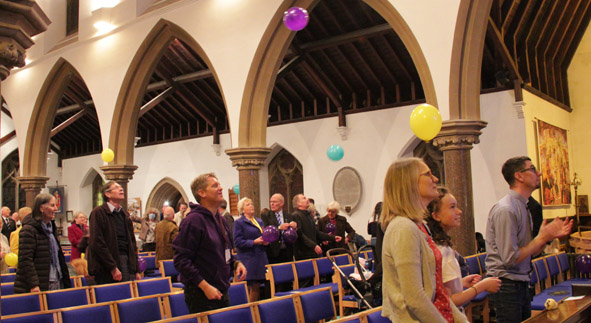 "I really hope that St Peter's will continue to grow and develop with people who are deeply rooted in their faith and will be a force for good in Evesham," said Andy. "We want to help more people come to faith in Jesus and be a place where people are loved and heard, and where their practical needs will be met. Everyone is welcome to join us on our journey!"
See more photos on our diocesan Facebook page: