Calum Burke, Curate at Top Church in Dudley has recently taken part in the 'Stammer Stories' podcast series, sharing his experiences of stammering and ordained ministry. In this blog he talks more about his stammer and the impact on his faith journey.
I recently tried to explain to a friend what stammering feels like and in particular, what the moment of blocking feels like. Explaining a block is difficult because although it can be physically painful, it is also emotionally draining and deeply isolating.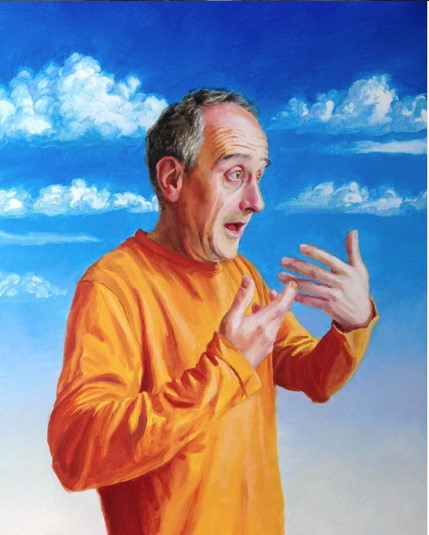 Paul Aston, a Cambridge based artist, recently painted a series of self-portraits of him stammering to explain to the world what the moment of stammering feels like. I have found myself drawn towards Paul's work. In one of Paul's recent self-portraits posted to Instagram (@paulastonpainter), he writes about the feeling of stammering which he has attempted to capture in the painting - 'that feeling when your body stops you speaking or you get caught in a strange temporal loop. Time briefly lags and pools before I move on'.
Paul's art resonates with me because it reminds me of a recent and deeply spiritual stammering experience which happened in college chapel when I was preparing for ordained ministry. I was leading morning prayer for the whole community and found words very stuck. This is of course not unusual, however, what was unusual is that during this block I found myself experiencing what I can only describe as an outer body experience. I was looking at myself from above with a real sense of God challenging me to be more open about my stammer. I felt him say to me 'I called you knowing that you stammer, and I called you anyway'. I knew in this moment that God was calling me to be more open and to find the gift in my stammer.
I would love to tell you that this immediately changed my perspective, but it did not. I am still in the process of finding and refining the gift. There are two things which have helped me on my journey.
Firstly, spending time with other stammerers. When we lived in Cambridge I joined a wonderful self-help group, full of fellow stammerers who taught me so much and encouraged me to live openly and honestly. They encouraged me to see my stammer as a gift which would help others because it would present and highlight the importance of leading vulnerably. This has led to me and a few other fellow stammering clergy setting up a self-help group for Christian leaders of all denominations. We would love to hear from anyone who would like to join.
Secondly, I've been surprised by the lack of resources on Christianity and speech impediment. There are many reasons for this, however, one of these is the bravery it takes for a stammerer to not only stand up and speak, but to also share their deepest vulnerability for consumption by others. This lack of resources led me to reflect on Scripture and what it might have to say to me and fellow stammerers. There are the obvious connections with Moses and his reluctance to lead because of his 'slow speech and slow tongue' (Exodus 4:10). However, I found God speak to me in a very surprising place, the words of St Paul to the Corinthians. It was surprising because St Paul's vulnerabilities are not often reflected on because of his 'hero' status; but I wonder, and it is a wonder rather than an evidential statement, if Paul stammered like me. What has led me to this conclusion?
Firstly, in 1 Corinthians 2:3, St Paul describes his preaching style as involving weakness, fear, and much trembling. This has traditionally been understood as St Paul challenging confident Greek orators, and whilst this may be the case, this preaching style sounds a lot like mine! Secondly, in 2 Corinthians 12:7-8, St Paul reflects on his unnamed thorn in the flesh, something which he had asked the Lord to take away, but to no avail. Perhaps these two passages are linked, and St Paul's thorn is his speech, even though he is utterly convinced that Christ has called him to preach and proclaim the Good News. Whether the scholars agree or not, I have given myself permission to believe that St Paul is a stammering ally, and he is a good ally to have indeed!
My stammer is how I talk and the way I minister. I hope that by speaking how I speak, I will encourage others to speak how they speak, and in doing so proclaim all that God has called them to proclaim.
Listen to the Stammer Stories podcast with Calum.