MP for Mid-Worcestershire, Nigel Huddleston, visited Fladbury CE First School last week to hear a message for the world about climate change.
The school were flying two naval flags underneath the Union flag outside the school. The top flag represents the letter 'W' as well as meaning 'urgent medical attention needed, and the second flag represents the letter 'E' as well as 'changing course to avoid a collision'. Shown together, the flags spell out the message that 'WE recognise our planet needs urgent attention and WE must change course.'
The event was organised by David Train, former Olympic Canoe coach who uses special 'bell boats' and paddles, alongside the flags, to take his message on climate change to people around the world. He said:
"The bell boats are all about people working together, and every time a 'paddle for life' is created, we plant a new tree. Together with the flags flying under our national flag, we've created a powerful message about both our heritage and our shared future. We have worked with Fladbury First School for over thirty years and it's appropriate that our MP is able to visit to see what we're doing."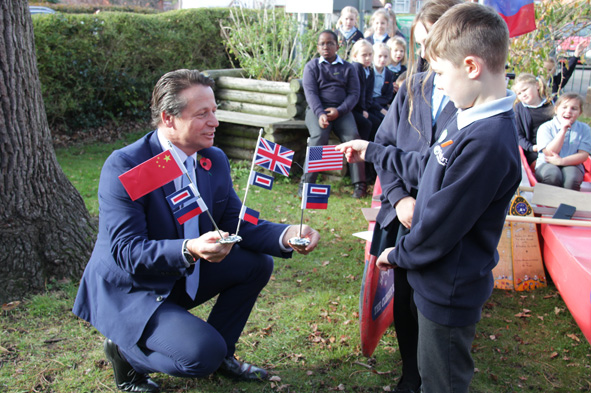 Nigel was given miniature versions of the flags to keep on his desk at Westminster. He said: "David is incredibly passionate about the environment and climate change. We all know that everyone needs to work together to ensure that the Earth is in a good state when the children currently at Fladbury school have grown up and for their children. We all have our part to play to protect the planet."
Headteacher, Julie Wilson, said: "the children of Fladbury School are equally passionate about climate change and have a real drive and determination to make change happen. We raise and strike our flags on Fridays as we say this poem, written by David himself: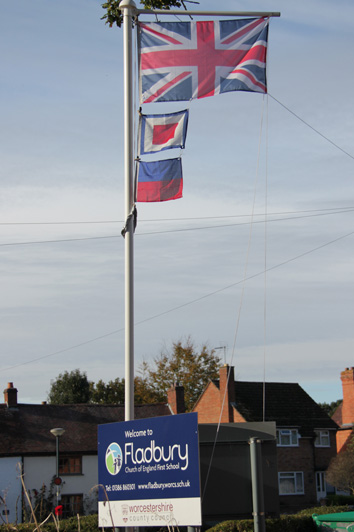 WE raise and strike on Fridays, two flags which say it all
How our blue planet's in danger and WE must change our course.
WE need our leaders with us, on board and paddling hard,
If we're to change the climate and save all life from harm.
We raise and strike on Fridays so rulers of our land
WILL listen to the children and clap them with their hands
So now on every Friday until our planets safe
WE raise and strike, WE raise and strike
Two flags which say it all