Churches with 20 or fewer active members make up 45% of the churches in the Diocese of Worcester. Smaller churches are often at the heart of their communities and have the story of that community literally written in their stones. However, they face very specific challenges in order to remain or become healthy and sustainable.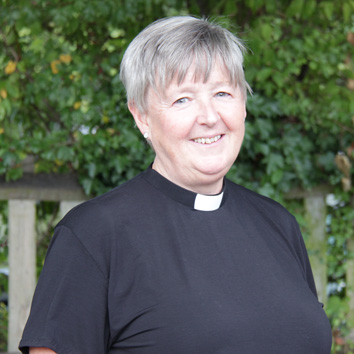 The Revd Alison Maddocks was appointed to the new role of Dean of Smaller Churches to work with these churches, providing practical support and helping them to connect with each other to share wisdom. She said:
"Our 120 smaller churches are 95% rural and the majority are listed buildings, with two-thirds being grade 1 or 2* listed. Many are struggling with both financial and people resources. One response could just be to close many of these churches, but that is definitely not the strategy. A defining characteristic of the Church of England is 'a Christian presence in every community' and our smaller churches can tell a really positive story. They are important to many who visit to find solace or discover their history."
Alison's post is funded by the Church Commissioners. She can help churches to work together effectively and find ways to creatively be church in their communities. Her support falls into four main areas – buildings, governance, ministry and mission and administration. All work is done in conjunction with the local clergy and Area Deans.
Buildings
Working with parishes to understand how each building fits into the delivery of their vision.
Establishing a 'Church Buildings Management Partnership' with an offer to take on the routine care of smaller churches – an annual check of roofs/ guttering/ paths and potentially group buying insurance.
Governance
Where parishes are struggling to fill roles, explore 'joint councils' to reduce the burden.
Look at the best use of resources – could churches become a 'festival church' or a 'chapel of ease' so they are not required to have their own PCC.
Mission and Ministry
Creative use of lay ministry.
Exploring new models of ministry, supported with training.
An understanding of the importance of churches remaining local.
Administration
Practical help with setting up things like the church's A Church Near You page, contactless and online giving and support with safeguarding.
Working with churches to understand where administration may be able to be done at a benefice or deanery level or through a central administration service.
Alison continues: "Wherever possible, I try to work with a group of churches and help each church identify their reason for being. Perhaps they are the church that is warm in winter, or a tourist church, or a church that works brilliantly with schools. We need to move beyond parish churches trying to do everything themselves and understand what each church can do best. We can then work together to deliver that. That doesn't necessarily mean having different services at different churches each week, but rather thinking about what we can do better together."
Alison is having conversations with churches in areas where there is no village hall to work out what needs to be done to ensure the church can meet this need. In other areas, churches are considering offering 'camping pods' in their buildings and there are opportunities for other church buildings to host a café or a village shop.
"The challenges faced by smaller churches won't be fixed overnight - it's a long, slow process and we'll need to ask for help from the wider community. However, it's great that the churches I'm talking to are open to new ideas – there is a real sense of hope and a definite feeling that God is part of the process."
Contact Alison to find out how she can support you as a smaller church.