Bishop Martin is supporting a campaign calling for churches to take a more sustainable approach to flower arranging and whenever possible, stop using floral foam (also known as 'oasis') in their displays.
He has recorded a conversation with royal florist Shane Connolly, in which the micro-plastics associated with floral foam are highlighted and possible alternatives are discussed.
Bishop Martin said:
"Like many, I love to see flower arrangements in church and always admire the ingenuity and skill of flower arrangers, however I have recently been made aware of the damaging impact of floral foam. As a diocese, we are committed to playing our part in tackling the climate crisis and stopping using floral foam is one change that we can make in the fight to reduce single use plastics. The Royal Horticultural Society have now banned floral foam in their displays at shows, such as Chelsea and Malvern, and I urge churches to also take a lead in this area to ensure our wonderful floral displays are as sustainable as possible."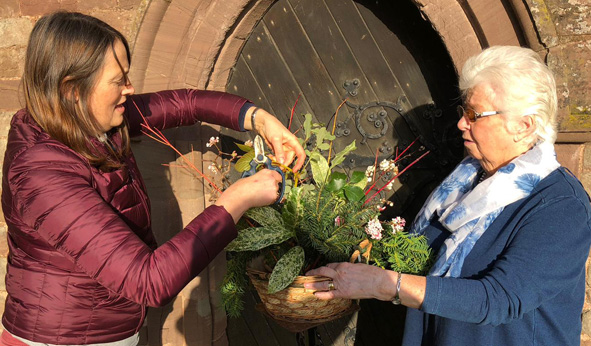 Floral foam is made of plastic which easily crumbles into microscopic fragments, and it is not compostable. The foam is generally used wet and after being soaked, wastewater is typically discarded into the sink or drain, adding to the problem of microplastic contamination in aquatic environments. Many of our churches are already using chicken wire and bamboo as an alternative to foam, which is a much more sustainable solution.
Alongside the alternatives to floral foam, Bishop Martin's conversation with Shane Connolly also explored the importance of using locally grown, seasonable flowers in church displays. Watch the full conversation below:
If you'd like to find out more about sustainable flower arranging, why not sign up to this workshop on 9 October: