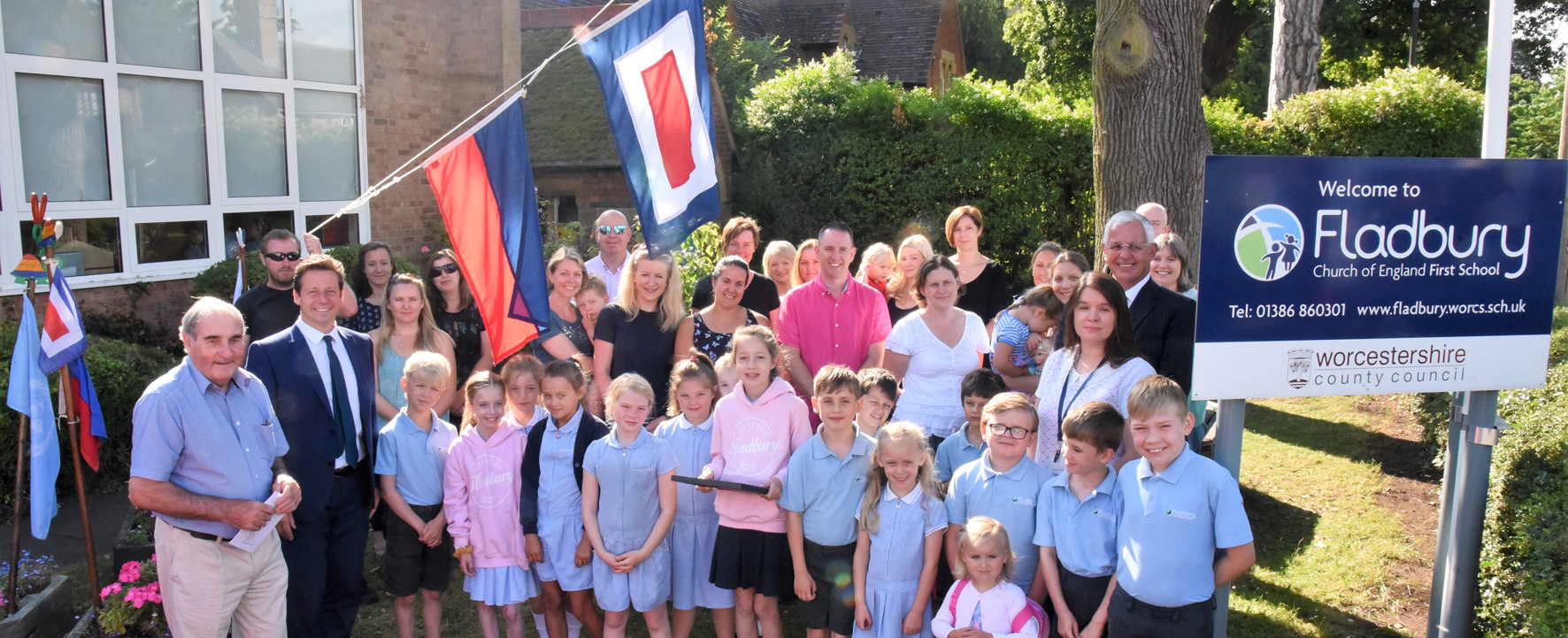 Nigel Huddleston MP for Mid Worcestershire,made history on Friday 12 July, at Fladbury CE First School,by being the first member of parliament ever to raise two sea signalling flags,spelling out the message that all at the school have recognised the 'climate emergency' recently declared by our Westminster parliament and are on board and changingcourse to avoid a catastrophe.
Inspired byGreta Thunberg calling for children throughout the world to "strike"on Fridays, the school knew that when a flag is pulled down it is called"striking" and that they could "raise and strike"the flags on Friday, getting a message to parliament, without children missingschool. In April the Fladbury children were able to raise and"strike" the flags and read out a poem about the ideas in theirFriday assembly. The poem was presented to Nigel Huddleston at the flag raising last Friday, who promised to to take it to Westminster to display on his desk forall in parliament to see. The poem includes the words:
"We need our leaders with us,

On boardand paddling hard,

If we're tochange our planet,

And saveall life from harm.
With NigelHuddleston now on board, the aim is to inspire all the schools andparliamentarians in Worcestershire to get involved, working together with Fladbury toinspire the Speakers of the Houses of Parliament to raise and strike theflags on Friday over the Palace of Westminster, signalling to all the nationsof the Commonwealth, and the whole world the need to work together on thisgreat common cause for the good of all humanity and life on our blueplanet.
It may seema huge task, but the children of Fladbury are inspired by acollage they created which hangs in their school hall saying, "Don't tell us the sky isthe limit when there are footsteps on the Moon."