Curate in the Redditch, Christ the King benefice, Mother Victoria Barlow and Lay Reader Fiona Carter have recently opened a 'coffee stop' at the church to reach out to local school parents.
They were able to buy the equipment they needed thanks to a grant from the Kingdom People Fund.
Victoria said:
"For many years, the church didn't have a great relationship with Astwood Bank Primary School, even thought it is right next door. Over the past few years, Fiona and I been trying to change that, going into school to read with the children and encouraging them to come into the church to visit. The headteacher there is very supportive and over lockdown we gave out 'take home Christingle kits' which lots of the Mums were sharing on social media.
One of the issues has been the lack of parking outside the school. Many of the parents arrive very early to ensure they can get a parking space when collecting their children in the afternoon. This seemed like an opportunity to continue to develop relationships and we had the idea of opening the church and inviting the parents in for free tea and cake rather than them sitting in the car."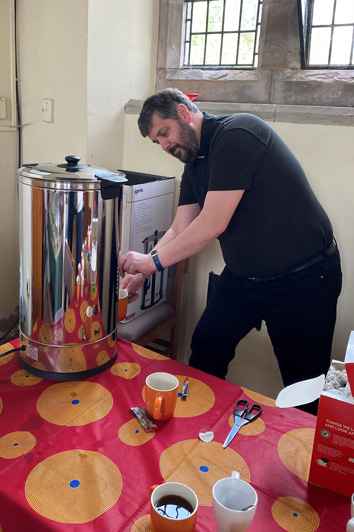 Victoria applied for a grant of just over £700 from the Kingdom People Fund, which enabled her to buy new tablecloths, an urn and some new cups. She asked the congregation to bake some cakes and then they began the 'Coffee Stop' in May.
"The school kindly publicised it through their newsletter and we got a good handful of Mums, some with their pre-school age children. Members of the congregation served the tea and cake and we started to get to know each other better, to build relationships. It's a really simple idea, and something that even our small congregation can do well. There are very few costs involved."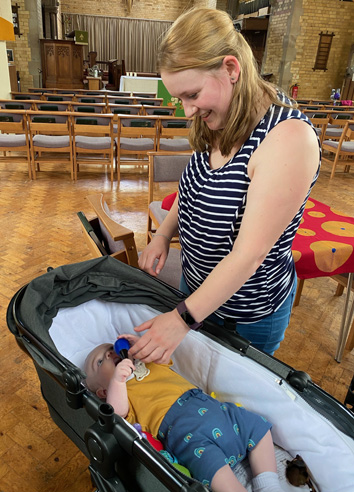 The aim is to open Coffee Stop on the 3rd Wednesday of every month. Victoria hopes that it will expand with more parents coming along, but they also plan to link with the local medical centre to invite anyone from the local community who may be lonely.
"It's already raising the profile of the church in the community," continued Victoria. "People are now starting to recognise the church family out on the street and it's encouraging people to come through our doors."