We are the Church of England in Worcestershire and Dudley.
Welcome to the Diocese of Worcester.
The Diocese of Worcester is one of 41 (42 including the Diocese in Europe) that make up the Church of England. The diocese covers an area of 670 square miles and includes the County of Worcestershire, the Metropolitan Borough of Dudley, and a few parishes in northern Gloucestershire, south east Wolverhampton and Sandwell - so we are not short on variety.

Our diocesan vision is to grow as Kingdom People, sharing the good news of Jesus' love in Worcestershire and Dudley.
As the body of Christ, God's Kingdom People, we join together to worship God, make disciples, share hope, and transform communities as we live out values of love, compassion, justice and freedom.
The Diocese of Worcester is committed to safeguarding children, young people and vulnerable adults to worship and grow in Christ safely.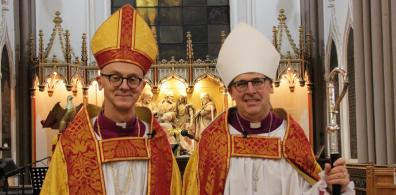 Easter messages from our Bishops
13th April 2022
Bishop John and Bishop Martin have both written messages for Easter....
The Protestant Church of Central Germany

On 8 May, eighteen brothers and sisters were ordained in Magdeburg cathedral, Central Germany. We pray for them as they start their ministry in our church.
Thursday 19th of May
09:00 am
-
Headteachers' & Senior Leaders' Conference
Friday 20th of May
19:30 pm
-
The Peaky Blinders band
Signup
Our Diocesan Mailing e-newsletter is published fortnightly. It's packed with resources, information, news and events to support those involved in church in the Diocese of Worcester.
Donate
Please continue to support your local church as your first priority.
However, if in addition to this, you are able to give to the 'Diocese of Worcester Ministry Fund', your donation will be used to help pay for our clergy.