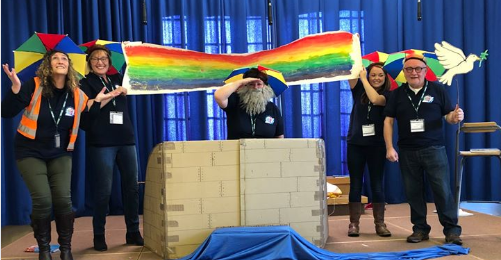 OtB team based in Hallow at Hallow CofE Primary School.
---
In 1999 a small group of church volunteers started going into primary school assemblies in Bedford to read and act out stories using The Lion Storyteller Bible.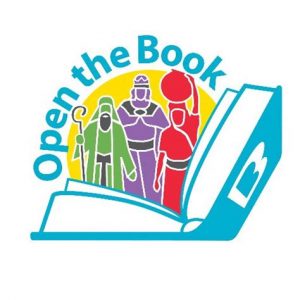 The Open the Book project was taken to Gloucestershire in 2001 and spread out to other counties from there. Later, in 2007, it was formed into a national charity. With increasing growth of volunteer numbers into the thousands, OtB joined Bible Society in 2013. In 2019, they celebrated 20 years of Open the Book and a growth of over 1000 storytellers throughout the year!
Their vision is "Bringing the Bible to life for every child in every primary school"
There are lots of ways that you can get involved with Open the Book! Our wonderful growth has happened because people love being volunteer Storytellers. Teams form from local churches, get the local school interested, get training, sign up the team, order resources and then go and do assemblies/acts of Collective Worship in their local school on a weekly or fortnightly basis when possible.
We have Open the Book teams visiting around 128 of the schools within our diocese!!
If you are currently part of an Open the Book Team and it is a while since you received any training, you could do their on-line training which takes about an hour, or take a look at the training even if you are curious!
You can follow Open the Book on Facebook and remember to check their website for the Bobcasts, homeschool resources and for the latest information.
Open the Book during the pandemic
In this video Mission Enablers Helen and Anne offer ideas if you're thinking about starting an OTB team, how to develop an existing OTB team and keeping in touch with your local school.
We can help you:
Do you want to be a volunteer and join a team?
Do you want to set up a new team and would like training?
Are you a current team and just need a chat, reassurance in these challenging times?
In fact, we can help you in any way, so please be in contact with us:
Upcoming Events
On 26 May (1.45-2.30pm) the Diocese of Worcester and Open the Book will be holding a Zoom Virtual Prayer Walk Event and all are welcome to join us. Teams from across the Diocese will be sharing news and prayer requests from their schools. The 45 minute event will also include led and open times of prayer (please be assured you won't be pressured to pray out loud).