'Living in Love and Faith' is a set of free teaching and learning resources which draws together the Bible, theology, science and history with powerful real-life stories.
The Church is home to a great diversity of people. There are serious differences of opinion on a variety of things, including human sexuality, and the Living in Love and Faith resources engage with those differences. They are the product of three years' work by more than 40 people, led by the Bishop of Coventry. They include a 480-page book, a series of films and podcasts, a course and an online library of other publications.
Parishes and deaneries are encouraged to think about how they might also use some of these resources - below are some ideas of how you might get involved. Download a 2-page flyer on engaging with LLF
Director of Ministry and Discipleship, Jonathan Kimber, has been appointed as the Diocesan Advocate for this work - do contact him with any queries or to let him know your plans. All are welcome to respond to the 'next steps' group led by the Bishop of London, which will report back to General Synod in 2022.
Read comments made by Bishop John on the launch of the resources.
Watch a short film of some participants talking about their experience of taking part in the LLF course:
Watch this film from the national church of four people sharing their experiences of taking part in the course:
1 book containing 5 parts, 20 'encounters'

17 story films

16 podcasts

1 course for groups – 5 sessions – videos and booklet

1 library with 323 resources, of which 61 are written by LLF group members for the LLF project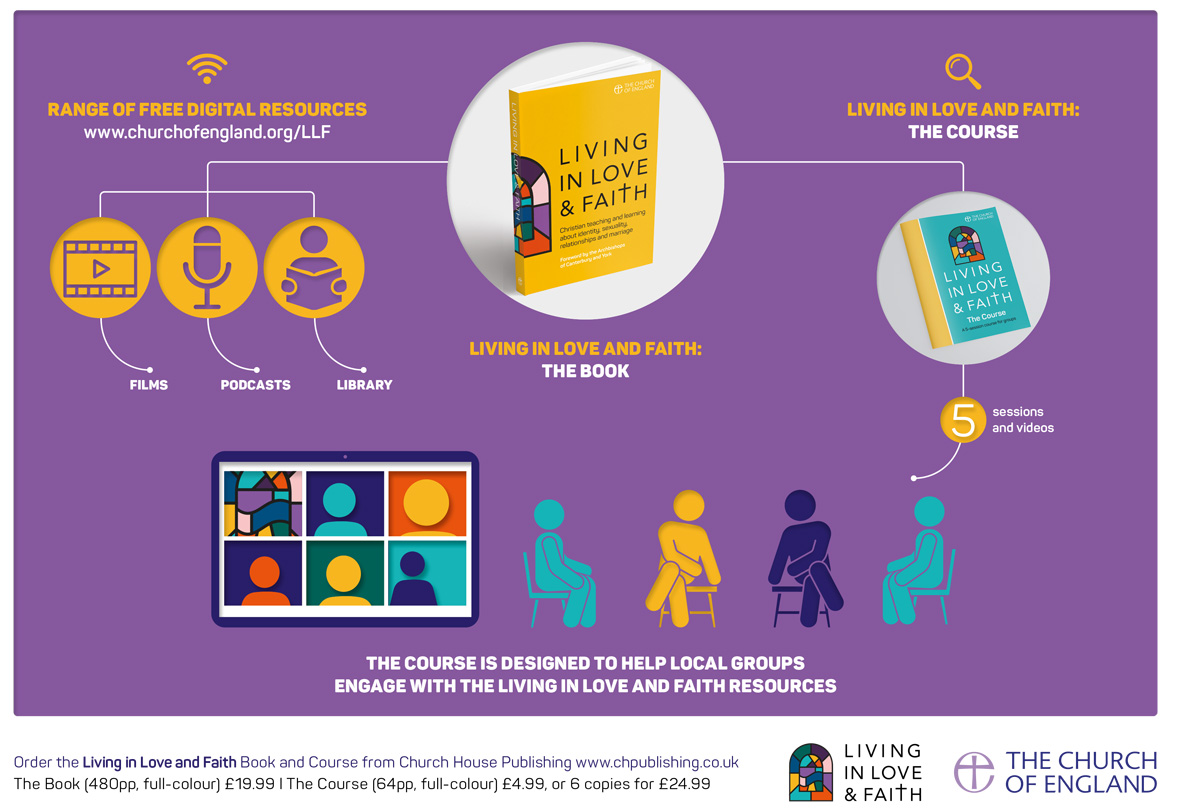 What pathway might my parish take to engage with LLF
We are offering a range of ways to help parishes engage with this important national project. Your pathway might include some of all of these options; parishes are invited to submit any feedback by the end of April 2022.
Start a discussion about LLF in your church.
Please notify the Training and Events Co-ordinator (training@cofe-worcester.org.uk) about any courses you run in your church.
- Think about a course leader who can enable a good conversation, even if there may be some disagreement.
- Will you run the course yourself or join with a diocesan course?
- What does a braver & safer space look like for your church?
- Will you partner with a church from a different tradition?
- Will you meet over zoom or wait until it is safe to meet in person? (Some may find being in their own home an easier way to deal with potentially challenging materials while for others it may be more important for everyone to be in the same room.)
LLF Digging Deeper: The Bible, Interpretation and Sexuality
Tuesday November 23rd from 7:15pm to 9pm.
The event will be chaired by Claire Lording, Vicar of Pershore and Chair of the House of Clergy, and introduced by Jonathan Kimber, diocesan LLF Advocate (and Director of Ministry and Discipleship). The event will be primarily a conversation between three contributors. There will also be some opportunity for questions. The focus is not on winning an argument, but on exploring the similarities and differences between ways that Christians understand the Bible, focusing on the area of sexuality.
This event complements the Living in Love and Faith (LLF) Course, and is offered in the same appreciative spirit of seeking greater understanding, not least of views different from our own. Participants are therefore asked to be open, enquiring and gracious in their attitudes and their speaking. This should enable a shared space that is safe for dialogue and learning, and in which we can be brave in our thinking and exploring.
Companions & Chaplains available
The companion's role will be to accompany and support a particular church or combination of churches, as they plan LLF engagement and lead LLF discussion groups. Contact Jonathan Kimber to arrange this. Chaplains are available to speak to anyone who may be finding this process difficult contact: Stephen Buckley or Christine Holzapfel.
How do we pass on our feedback?
Please do pass on candid and constructive feedback of your LLF experience – whatever that experience has been. All feedback will be anonymised. If you're using the online version of the course, you will be prompted to do this within the course itself.
The questions at the end of each session are these:
What issue, question or comment in the session video materials prompted the most stimulating reflection?
What fresh insights (if any) arose from your engagement with the materials?
If you're not using the online course, do find an appropriate way to summarise the experience and the outcomes of your learning together. Use a format of your choosing (a letter, a 'report', a recording, a video). Feel free to share some of the different ways in which insights arose (images, Scripture passages etc). The two questions above will be a good guide.
Churches are encouraged to offer this feedback as a group – but individuals can also provide feedback. There will also be the chance to complete a questionnaire through which you can record your experience of engaging with the LLF resources as a group.
Jonathan Kimber will be very happy to pass on feedback, or, if you prefer, you can send it direct to the national LLF Enabling Officer, Dr Eeva John: eeva.john@churchofengland.org. If you have any administrative queries, please contact Katie, Training and Events Co-ordinator.