Five people from parishes across the Diocese have been admitted to the office of Readerin Worcester Cathedral. Bishop John conducted the service, licensing the individuals to minister in the parishes they have been called to serve.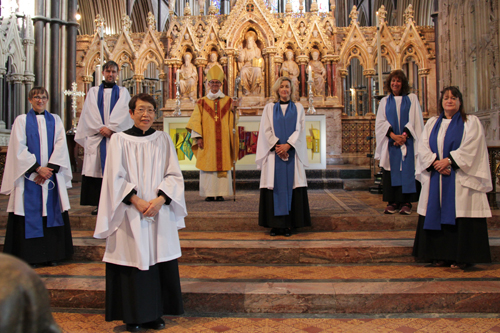 Readers are trained and licensed lay ministers in the Church of England authorised in particular to exercise a ministry of preaching and teaching. They undergo a two-year training course before being admitted to the role, which ends with the award of a Certificate in Higher Education by the University of Durham. After being licensed they carry out a wide range of tasks within their parishes and beyond, especially helping others to reflect on their faith and how it relates to their daily lives.
Those admitted and licensed were:
Sue Hiscocks who will serve in the benefice of Fladbury, Hill and Moor, Wyre Piddle, Cropthorne and Charlton
Alison Lewis who will serve at St Leonard, Clent
Charles Morgan who will serve in the Halas Team in Halesowen
Carol Morris who will serve in the benefice of Kidderminster East
Sally Spencer who will also serve in the Halas Team in Halesowen
Yuki Johnson from Redditch also completed the training with the group, but will be licensed in London where she will work with a Japanese language congregation. She was welcomed as a new Reader as part of the service.
Bishop John said: "Lay Ministers play a very important role in our churches, sharing their faith with others and serving them in God's name. I was delighted to be able to license these five people to this very important role as well as welcome Yuki who will also be able to exercise her ministry here once she is licensed in London."
The preacher at the service was Canon Sue Oliver, Warden of Readers, who said the new Lay Ministers should "proclaim the Kingdom of love, compassion, justice and freedom, just as Jesus did; by how [they] live, teach and meet people wherever they are. And make sure to keep connected to Jesus through prayer, which will sustain life and ministry."
The service took place in Worcester Cathedral on the afternoon of Saturday 19 September.
Watch the service:
Reader Licensing (2020) from Diocese of Worcester on Vimeo.
Quotes from the Candidates:
Sue Hiscocks (Fladbury, Hill and Moor, Wyre Piddle, Cropthorne and Charlton)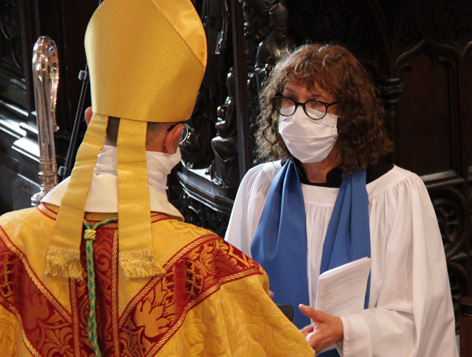 I am married and have a lovely family of children and grandchildren. I came to live in Charlton five years ago and have been active in Church and community since moving here.
I enjoyed my time at Queens College, especially being part of a community that studies, worships, prays, and eats together and I hope to build on and consolidate on my learning.
My ministry will be in the 5 Alive Parish, teaching and preaching in Church, active in church community but also as a bridge between Church and community in the villages. Hopefully, I will be a friend to all I meet as I seek to express and share the love of God and help others reflect on their faith and how it relates to their daily lives.
Alison Lewis (Clent)
I had served as an ALM Evangelist in the Holy Cross Group of churches for several years, when I felt God call me to take the next step up to being a Licensed Lay Minister. Having been away from learning for over 30 years, training has not been easy; although I can look back now and see how much I have grown in my faith and confidence. During my time at Queen's, I have learnt much, including never give up as all things really are possible with God! Along the way, I have laughed and cried and enjoyed fellowship with others also called to serve as Lay Ministers.
Being called by God is both an honour and privilege. God has never ceased to amaze me over the years. I am looking forward to preaching and sharing God's word in our churches and in our villages. I feel excited to see how I can partner with God in prayer and worship to help others deepen their relationship with God and each other.
Charles Morgan (Halas Team, Halesowen)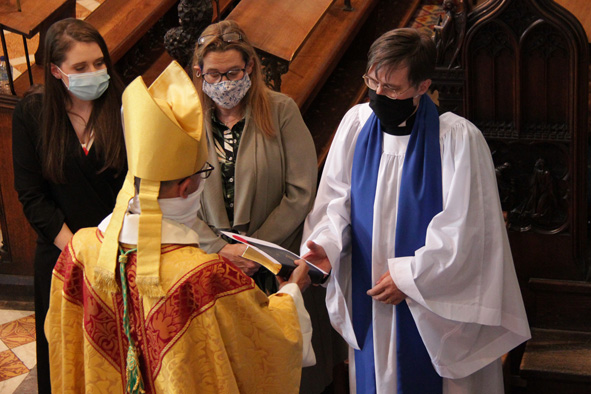 I have attended church virtually all of my life and during that time have performed a number of roles. Despite this, it came as something of a surprise to me when I felt called to take my Christian faith further though licencing as a Lay Reader.
I am not certain that any time of life is necessarily the right time to feel called, especially with the demands upon your time that training requires. As a married man with two grown up children, four grandchildren, locally living elderly parents and a demanding job, it may not have been the moment I would have chosen. But if you trust in God, God does know the right time and has, along with my family, supported me through two years of fantastic, challenging training at Queens in Birmingham.
Following licensing, I look forward to continuing my development within the Halas team by being active across all five churches, as I am needed. I have had initial discussions about commencing funeral training in January. In my work life, meeting many clients on a weekly basis, I will continue to discuss what God is doing within my life which many have been interested in over my two years of training. Ultimately, I have always felt that my calling is to be deployable, by the Bishop, in parishes where there is a need around the north of the Diocese.
Carol Morris (Kidderminster East)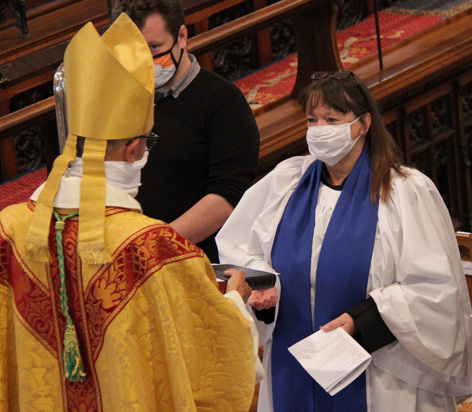 I am a practicing midwife of many years and mother to Sean. Following the early death of my husband I was at a crossroads in my life and didn't fully know which road I would or should be going down. However, for the first time, I realised that God had plans for me, although at this time I was unsure of what they were. So, I trusted in Him, followed Him and waited until He was ready to show me the road I should travel on.
Several years later, I met my new husband Tim and moved from Cambridgeshire to Kidderminster and it was only then that God's full calling was made clear. I knew that everything that had previously happened had led me to this place. I completed the Bishop's Certificate and then was successful in obtaining a place at Queens to undertake Licensed Lay Ministry training. This training has been both challenging and rewarding but has seen me grow with God. I have met wonderful people that I have studied alongside, shared food with and prayed with and who I can now call my friends.
I'm looking forward to supporting the clergy and lay team in the parish of Kidderminster East and I await with excitement to see where God will lead me next.
Sally Spencer (Halas Team, Halesowen)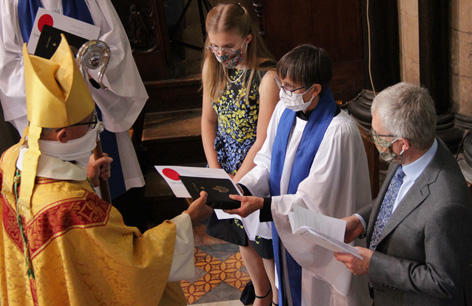 I am a primary school teacher with tow grown up children. Along with my husband, who directs the choir, I have been involved with St John's Church in Halesowen since we came to live in the area more than 30 years ago. For many years I led Junior Church and have often given a Gospel Reflection at our All Age Services. More recently I have acted as Deacon at communion services.
I always felt that I would like to learn more about leading worship and the Lay Ministry course has certainly equipped me with far more knowledge of the Bible, of Church History and many other aspects of our faith. I enjoyed being part of the community at Queen's; I found the lectures fascinating and discussions with other students stimulating.
I am now looking forward to using my new skills at St John's and in the wider Parish in whatever form they take in our post lockdown worship.