The Government has confirmed that the Listed Places of Worship Grant Scheme is extended until 31 March 2025. Church Buildings Officer, Mark Carter explains why this is good news for parishes: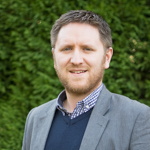 The continuation of the vital Listed Places of Worship Grant Scheme for a further three years allows parishes to plan for repair and development projects to listed churches.
The scheme – which has been in place since 2001 – controls the reclaim of VAT paid on eligible works to listed churches via the portal at http://www.lpwscheme.org.uk/ within 12 months of the expenditure being committed. Over 20 years this has been a lifeline for our parishes: historic church buildings are expensive to repair and redevelop without the further pressures of taxation.
A reminder that a parish does need to pay the VAT on works when invoiced by the supplier and then claim back the VAT through the scheme. For major projects this can lead to cashflow concerns, and it may be possible to arrange a loan from the Dioceses' Sites and Buildings Fund to cover cashflow. Parishes who are considering this should contact me for a discussion at an early stage. Works that are not requiring of VAT or are zero-rated for VAT should not have VAT charged on them in the first instance by the supplier.
Mark Carter, Church Buildings Officer