Euan McPhee arrived in Worcester this afternoon as part of a cycle ride from Truro to Glasgow ahead of the COP26 Climate Change summit.
Euan said:
"A group of us cycled from Truro to Paris for COP15, then from Paris to Bonn for COP23; on each of those rides we shared the Climate Vision Pledges with communities on the way and with COP representatives. This time, I am collecting the Climate declarations/ commitments from each diocese on the way and present them to our COP26 representatives. I feel it important to demonstrate to our political representatives how committed the Christian Community is to responding positively to the Climate Crisis, and to urge them to take bold and decisive action."
Euan decided to complete the ride during the Season of Creationtide, rather than waiting until October. He started in Truro last Thursday and hopes to arrive in Scotland on Friday 17 September. A few other cyclists will join him for part of the journey, but he's the only one doing the whole thing this time. He'll visit every diocese on the West side of the country.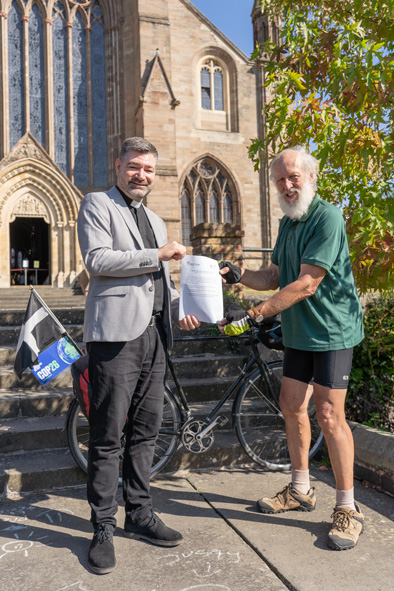 Euan was met in Worcester by Cathedral Residentiary Canon Stephen Edwards, who is also a member of the Diocesan Climate Crisis Group. Stephen handed over a copy of our diocesan commitment to be net-Zero by March 2030 at the latest, which was agreed at the March 2021 meeting of Diocesan Synod.
Find out more about what we're doing to tackle climate change and how you can play your part.