The rain held off, and the sun even shone, for the first event held by a new Calling Young Disciples inspired partnership between St Mark, Pensnett and St John, Brockmoor, supported by other churches in the Brierley Hill Team.
David Hoskin, Rector of the Brierley Hill Team, reports on the event:
All of the congregations involved have limited resources, but it is hoped that a partnership will enable more creative work with children and their families to become possible.
it was decided to hold a community event first-off, an event which was all about offering welcome, hospitality and a chance for people to come together. The volunteer team scouted out the Barrow Hill Nature Reserve on the wettest, muddiest night possible and a plan was formed.
Picnics would be purchased from a local supplier. A treasure hunt would be created. Pensnett would supply bats and balls for a variety of games. The Brierley Hill Team supplied parachute games and a pond of rubber ducks was a late comer to the party. Cake was baked in abundance, the First Aid kit remembered.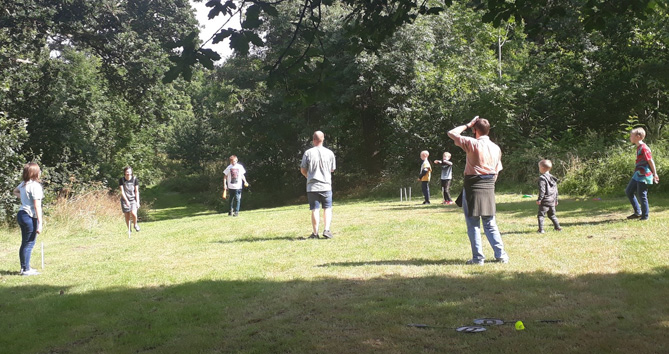 Invites went out through the local church school and already established contacts. People said "yes, we'll come".
All that was needed now was for it to stop raining!
Which happened! And it became a much-appreciated event.
Some children played parachute games for the first time, others enjoyed football and rounders. There was opportunity to say something of why we were hosting the event, our delight at sharing the love of God and our hopes for future missional events. The "warmth of welcome" was commented on and our guests appear to want to come again.
Therefore, a successful first outing and a springboard for future events.